Plant Fever. Towards a Phyto-centred Design
For centuries, our inherent alienation from nature has prevented us from truly understanding the potential of plants as more than simple materials or decorative objects. In recent years, however, new scientific discoveries and philosophical approaches have reframed our relationship with them, questioning the dualism human/nature so much rooted in Western thinking.

Echoing the belief of American ecologist Ian Baldwin that "we should try to think like plants", designers, scientists and engineers, started to look into plants' structures and behaviours adopting them as allies to develop solutions for current and upcoming environmental and social issues.

Plant Fever proposes to look at the future of design from this new vegetal perspective, moving from a human-centred to a phyto-centred design.
---
Spanning from products and fashion items to material research, open-source devices and emerging technologies, the 50+ projects featured in
Plant Fever
represent the work of creatives from more than 20 countries. Here are some examples.
Artichair
by
Spyros Kizis

Photo © Spyros Kizis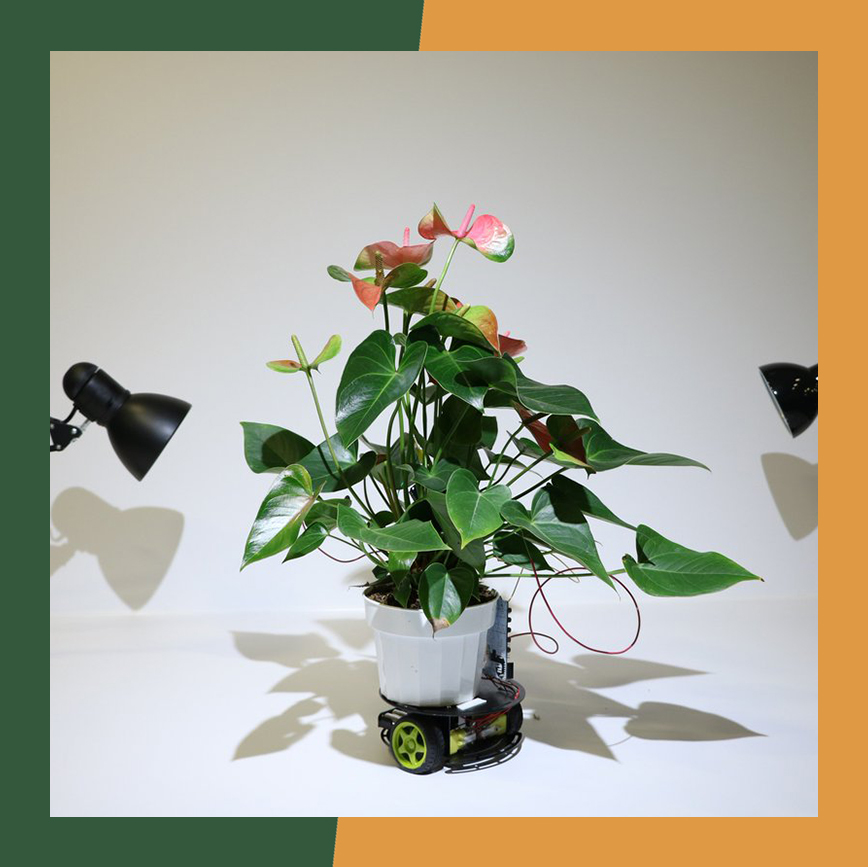 Elowan
by
Harpeet Sareen & Pattie Maes
Photo © Sareen&Maes
Eritaj Kontré
by
dach&zephir
Photo © Jiès Cléodore
Hemp Shoes
by
Liz Ciokajlo
Photo © Stephanie P. Corwin
The Phytophiler
by
Dossofiorito
Photo © Omar Nadalini
Viride
by
Pablo Figuera & Àlvaro Goula
Photo © Goula-Figuera
---
The research behind Plant Fever is informed & nourished by an ever-evolving bibliography. The volumes listed here are an excellent way to start your journey in the fascinating world of plants.
---
You have a question regarding the
exhibition
or the
book
? Wish to invite the curatorial team for a talk or a workshop? Want to submit an article proposal for the
journal
?
Get in touch at
hello@studiodots.eu
---
*CID au Grand-Hornu's team:
Martine Acar, Dominique Blondiau, Sophia Bouarfa, Aubane Brebant, Christopher Broyart, David Buyle, Giuseppe Cannella, Laetitia Centritto, Maryvonne Colle, Matteo De Felice, Brigitte Delattre, Gaëtan Delehouzée, Véronique Demebski, Filip Depuydt, Massimo Di Emidio, Sophie Gallez, Céline Ganty, Loïc Goemaes, Marianne Jayé, Laurence Lelong, Hervé Liénard, Maxime Mairesse, David Marchal, Vincenzo Mauro, Justine Mertens, Jean-François Paternoster, Thierry Pochet, Marie Pok, Carine Saber, Matteo Sciullo, David Vilain, Maryse Willems, Cataldo Zitolo,
The curatorial team wishes to thank:
Marco Costantini, Marie Pok, Livia Rossi & Gianluca Giabardo, Markus Jeschaunig, Antonio Scarponi, Emanuele Coccia, Irene Cuzzaniti, Coline Fontaine, Quentin Hiernaux, Laura Maggi, Deborah Tyler, Dana Olarescu, Barbara Predan, Giada Seghers, Marie de Cossette, Giovanna Massoni, Špela Petrič, Natasha Mis, Denise Neri, Scott Hawthorn, All the website's guest authors,