Plant Fever. The book
A thought-provoking publication about plant-conscious design & philosophy. An investigation tool to discover the hidden potential of the vegetal realm. A visually rich, mind-opening reading experience
---
Publication details
---
Plant Fever
Vers un design phyto-centré
Towards a Phyto-centred Design
Edited by

d-o-t-s (Laura Drouet & Olivier Lacrouts)


Foreword by

Marie Pok (Director, CID au Grand-Hornu)
Introduction by

Laura Drouet (d-o-t-s)


With contributions by

Emanuele Coccia, Carole Collet, dach&zephir, Quentin Hiernaux, Overmind, Catriona A. H. Sandilands, Ana Silva, Penny Sparke, Trajna collective


Graphic design by

Matthieu Visentin


Publisher:
Stichting Kunstboek, CID au Grand-Hornu

Language:
bilingual French & English

Paperback:
224 pages, 100 illustrations

Size:
240 x 170 mm

Publication date:
October 2020

Diffusion:
1st ed. ︎︎︎ 1,500 copies

ISBN:
978-90-5856-657-7

Price:
€ 35,00
---
︎ Buy on Exhibitions International
---
︎︎︎ See what's inside ︎︎︎
For centuries, our inherent alienation from nature has prevented us from truly seeing plants and understanding them as more than simple materials or decorative objects. Can design help us change our perspective and reveal their potential as allies?
Bilingual and well illustrated, the book is divided into three main chapters with essays, interviews and visual essays that look at the world of plants from different angles. The publication is further enriched with The Manifesto of Phyto-centred Design, a set of militant actions that call for new alliances between plants and humans.
Chapter 1
Plants as Resources
Timber. Douglas-fir. Art
an essay by
Catriona A. H. Sandilands
In this 7-page essay, Canadian professor Catriona A. H. Sandilands looks at how the forest industry has reduced trees (no matter dead or alive) to mere timber. Claiming that there is more to plants than just resources, Sandilands urges us all to rethink our relationship with the vegetal realm.
An Invasive Plant Turned into Paper
a conversation with
Trajna collective
Slovenian non-profit organisation Trajna talks about its project
Notweed Paper
, an enterprise that aims at turning Japanese knotweed - a plant currently considered as invasive in Europe - into paper. Proposing an alternative to the use of herbicides generally employed to get rid of the plant, Trajna also calls for a shift of perspective towards invasive species more in general.
Caribbean Priority
a visual essay by
dach&zephir
Through a series of collages that merge historical archives and contemporary imagery, design studio dach&zephir explores the important role played by plants among enslaved populations of the French West Indies (Guadeloupe and Martinique) and the notion of
creolisation
.
To learn more about dach&zephir's investigations, read the essay they wrote for the Journal of Plant Fever.
Nature Inside: A Short History
an essay by
Penny Sparke
British design historian Penny Sparke explores the role of plants in modern interiors from the 19th century to the mid 20th century. In her text, Sparke describes how houseplants, especially in urban contexts, allow us to establish strong connections with nature.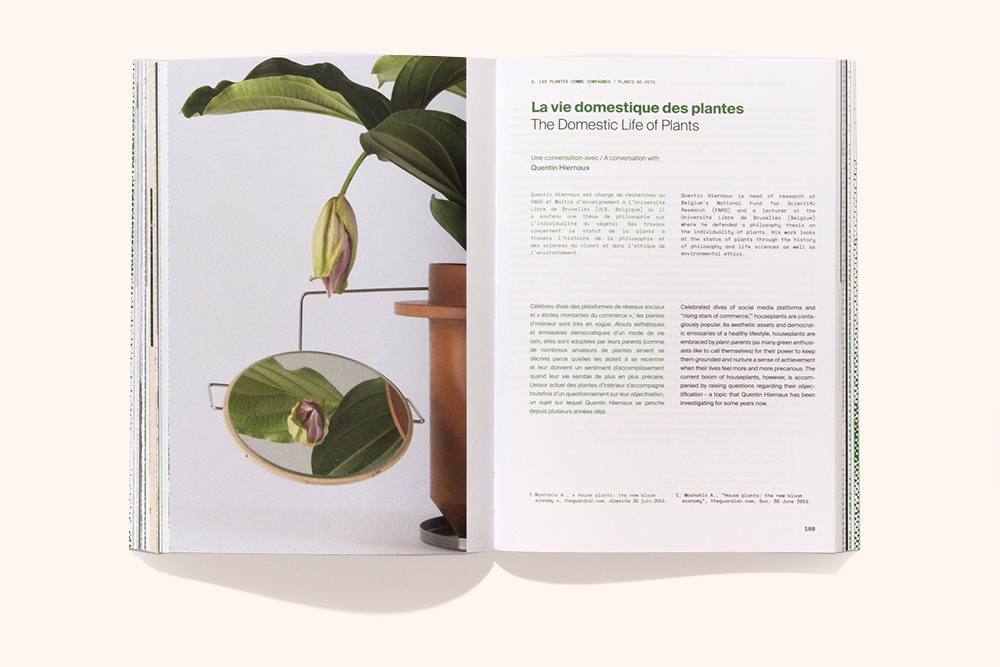 The Domestic Life of Plants
a conversation with
Quentin Hiernaux
Maintaining that plants hold a formative and stimulating power - particularly within domestic contexts - Belgian philosopher Quentin Hiernaux talks about the complex and often paradoxical relationship we have with them, looking at plants as more than mere objects of decoration.
A Day in the Life of Ms Gabriela
a visual essay by Ana Silva

A series of still images extracted from the short film, A Day in the Life of Ms Gabriela, by Portuguese filmmaker Ana Silva. The film was the result of a two-year investigation carried out by Silva about the special bonds that some young people from the so-called millennial generation have developed with the vegetal world.
Chapter 3
Plants as Allies
Life is Essentially Design
an essay by
Emanuele Coccia
In this poetic and breathtaking essay, Italian philosopher Emanuele Coccia brings us on a biological journey to show us how the lives of all beings are fluidly intertwined and the result of constant metamorphosis.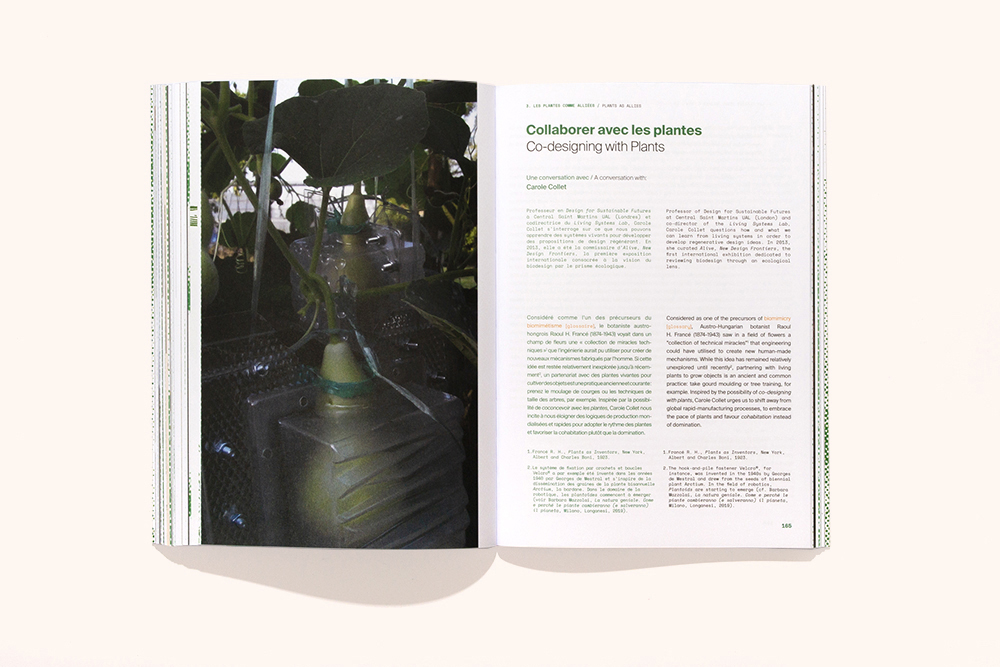 Co-designing with Plants
a conversation with
Carole Collet
Based on her own practice, in which she co-designs with plants as well as other living beings, London-based designer and professor Carole Collet urges us to shift away from global rapid-manufacturing processes, embracing the pace of plants and favouring cohabitation instead of domination.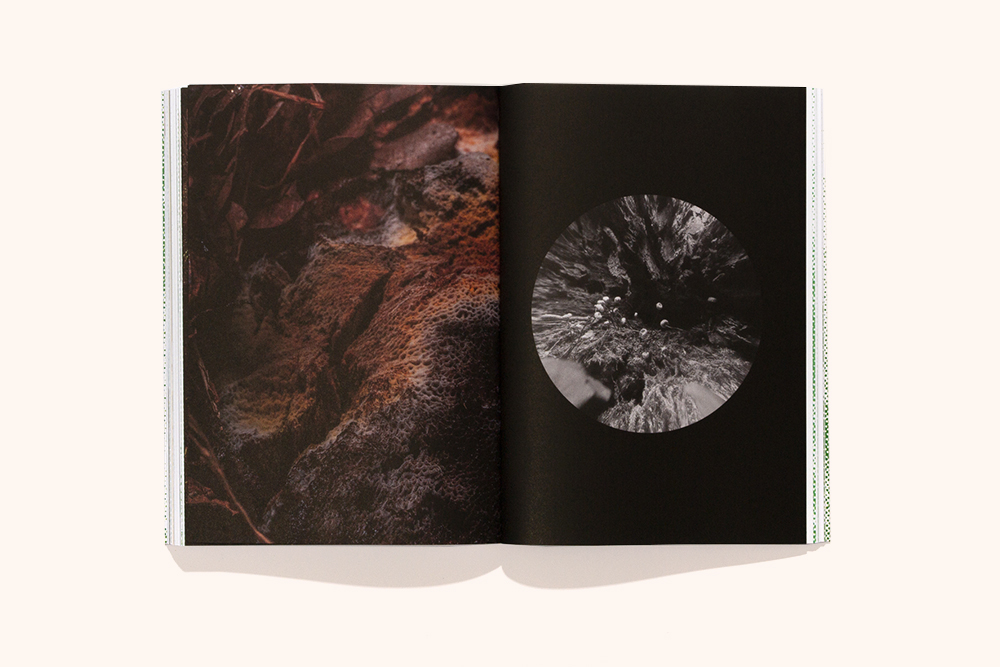 Souvenirs from Plantasia
a visual essay by
Overmind
The brainchild of Swiss graphic designer Matthieu Visentin, Overmind is an investigation about new opportunities for metaphysical experiences. Captured during a walk through grassy lands, the series of photographs reveal the endless "creativity" of plants and their manifold tactics to provoke and seduce other species.
Concept & editorial coordination
d-o-t-s

Art direction & graphic design
Matthieu Visentin

Graphic design coordination
Laetitia Centritto (CID au Grand-Hornu)

Translations
Right Ink, Laura Maggi, d-o-t-s



Proofreading [FR]
CID au Grand-Hornu
Proofreading [EN]
Deborah Tyler
Published by
Stichting Kunstboek bvba
CID au Grand-Hornu
Printed in the EU

Typefaces: Suisse Int'l (Light, Regular, Bold); Space Mono (Regular)